Agricultural Bins
With a remarkable 20 year history in the agricultural market, MacroBins are specifically designed to increase efficiency and reduce waste for growers and packers. These heavy-duty containers withstand the daily pounding that harvesting containers typically receive, while carefully protecting the fruits, vegetables, and other products stored inside.
MacroBins are premium, injection molded plastic bins, made with FDA-approved materials. The Macro Plastics high-tech manufacturing process makes each bin exceptionally durable and long lasting. MacroBins provide superior sanitation and ventilation and weigh up to 40% less than wood bins.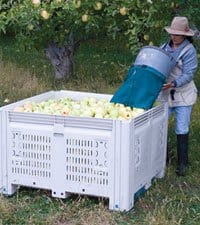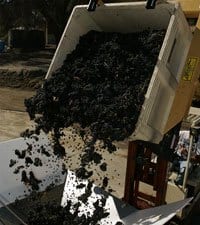 Food Processing Bins
Applying the extensive knowledge and expertise gained from a long, successful history designing and manufacturing products for the agricultural industry, the ProBin family was created to meet the specific requirements of food processors. These technologically advanced containers maintain product integrity and increase shipping efficiency.
All products in the ProBin family, including the Solid Wall products line, are exceptionally easy to clean, sanitize, and maintain. This greatly improves your ability to comply with HACCP standards. ProBins are manufactured with FDA-approved materials, certified safe for use with food products.
Retail Bins
Drawing inspiration from an unparalleled understanding of the produce industry, Macro Plastics created the ShuttleBin to accommodate the unique demands of produce retailers with retail-ready packaging for field to store transportation and display.
The smooth, fully-vented walls of the ShuttleBin create an optimal environment for fresh produce in which product damage and waste are greatly reduced. Made from FDA-approved materials, the nonporous plastic inhibits mold and mildew growth. Featuring integrated bases, ShuttleBins improve safety, handling, and space efficiency.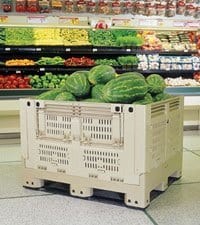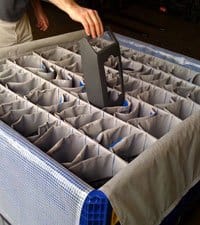 Industrial Bins
Macro Plastics employs a unique insight gained from over two decades of manufacturing bulk plastics containers to provide ideal solutions for worldwide transportation. The IsoBin family of products was developed to optimize shipping efficiencies and dramatically reduce shipping costs. Because IsoBins were designed to be reused, customers are provided the opportunity to reduce their carbon footprint and incorporate sustainable products into their daily operations.
With the capacity to contain goods ranging from automotive parts to consumer retail products, the IsoBin family is guaranteed to meet all of your international shipping and corporate sustainability goals.