The MacroTote 9-FV is a lightweight single piece tote designed for harvesting, transport, hydro-cooling and hand dumping of cherries. Cherries can be harvested by hand into the totes and individually hand dumped onto packing lines with as little damage as possible.    The 9-FV offers higher structural integrity and protection from mold compare to the plastic corrugated totes currently in use, while the multiple vent holes allow for increased water flow through totes in hydro-coolers. These totes are designed to nest within the MacroBin 28, 32, 33 and 34 models or can be placed in any full size bin that is available.   The purpose of this guide is to review all aspects for the safe use of the MacroTote 9-FV.
Table of Contents
Storage
Transporting
Field Handling
Cleaning
Maintenance
Recycling
The 9-FV tote can be nested when stacked empty by lining up the stacking lugs. This enables the totes to nest resulting 15% more totes to an empty stack. Additionally, there are tabs located in such a manner as to prevent the totes from becoming stuck together when stacked in storage for long periods. 9-FV totes are stacked full by turning 180° so that stacking lugs do not line up. See Figure 1 below: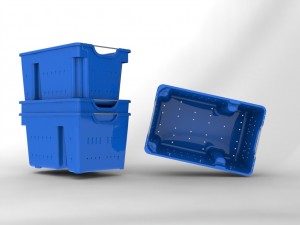 The 9-FV totes are transported to and from the field in full size field bins. The external dimensions of the tote are sized to fit into full size bins as illustrated in Figure 2 below:
This enables three levels of cherries to be transported where only one level was possible when using a full size bin with no totes.  The dimensions of this tote enable the following number of totes to fit in the following bins:
| | |
| --- | --- |
| MacroBin 12 | 1 layers of (9) – 9 MacroTote 9-FVs |
| MacroBin 28 and 33 | 3 layers of (9) – 27 MacroTote 9-FVs |
| MacroBin 32 | 2 layers of (8) – 16 MacroTote 9-FVs |
| MacroBin 34 | 3 Layers of (8) – 24 MacroTote 9-FVs |
If you do not have these bins the MacroTote 9-FV can also be placed in any available field bin, for more efficient use of your bin pool.
Load securement on open trailers of full totes nested in MacroBins, or any bin used, must comply with DOT Federal Motor Carrier Safety Regulations listed under 49 CFR 393.100 – 393.114. Load securement recommendations for all MacroBins are detailed in the User Guide section for the bin used to transport the full MacroTote 9-FVs.
MacroTote 9-FV totes are not designed for stacking on pallets in the field like other totes that are dimensioned for high stacking on standard 40 x 48 pallets. They are specifically for stacking in bins and cannot be palletized and tied down for transport on trailers or flatbeds.
The MacroTote 9-FV can be carried by field workers with a harness allowing hands free picking and loading of the tote. See Figure 3 below. Bins full of empty totes are distributed throughout the orchard. As totes are filled they are placed back in the bin and an empty can be easily attached to the harness for filling.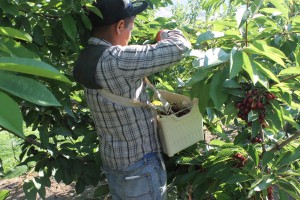 Harnesses can be purchased at Wilson Orchard and Vineyard Supply, 1104 Meade Avenue in Yakima WA. (509) 453-9983 and www.wilsonirr.com. The correct product is a Pic Bucket Harness, Product Number – Pic Bag SM PAD STRP.
The 9-FV can be cleaned using a high-pressure spray washer. High-pressure steam cleaners should never be used.
If totes are damaged, cracks can be repaired using a hot air plastic welder. See Hot Air Welding section of the User Guide for instructions on plastic welding repair.
For information on recycling damaged or worn-out totes, visit http://www.macroplastics.com/services/recycling/.