The IsoBin was developed to optimize international shipping efficiencies and sustainability objectives by replacing one-way packaging with returnable folding bins for shipping in containers by sea, rail and on the road. IsoBins are very strong, easy to use and handle and simple to maintain. The purpose of this guide is to review all aspects for the safe use of the IsoBin.

Table of Contents
Set Up Process
Loading / Unloading
Collapse Process
Storage
Transporting
Handling
Cleaning
Components / Maintenance
Standard IsoBin
Component Parts
IsoBin Repair Guide
IsoBin Inspection Process
Sidewall Repair Process
Dropdoor Repair Process
Latch Repair Process
Fork Strap Repair Process
Flat Panel Repair
Recycling
Labeling
1. Place collapsed bin on a level, safe, flat surface and remove dust cover.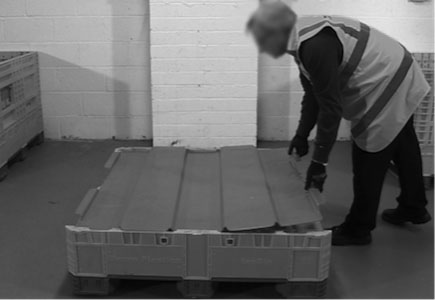 2. Raise left and right sidewalls.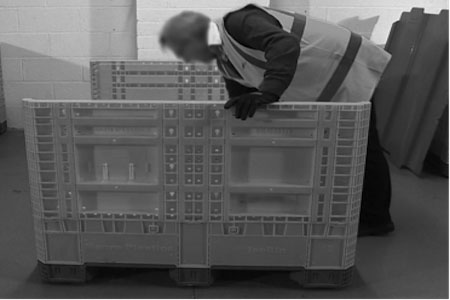 3. Lift up back wall until latches are secured and have secured sidewalls to the front and back walls.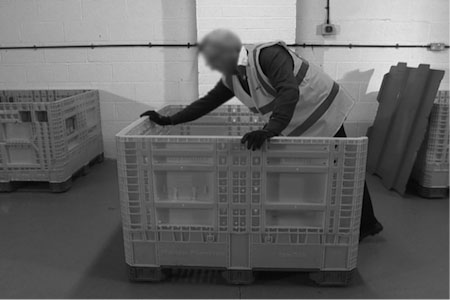 4. Raise up front wall until it latches into sidewalls and shake bin to ensure all latches are secured. Bin is ready to fill.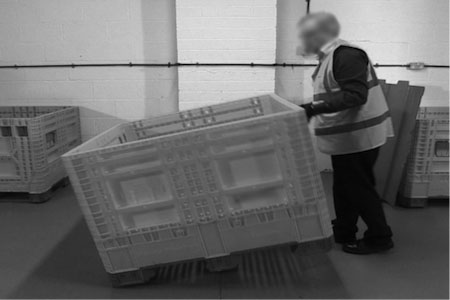 Loading and unloading bin contents from front or rear of bin.
1. Press inner latches toward center of bin to release drop door.
2. Drop door will pivot down exposing the contents for removal.
3. When done removing desired contents swing the door up until the latches secure the door.
1. Place erected empty bin on a level, safe, flat surface.
2. Remove dust cover.
3. Press the outer latches inward to release the front and rear walls from the sidewalls.
4. Let the front and rear walls fall into the bin.
5. Pivot the sidewalls down into the bin.
6. Replace the dust cover.
To ensure there is no damage that could lead to loss of contents or danger to workers, bins should be inspected on a regular basis.
Folded bins can be stacked 16 high on solid flat level surfaces.
Erected, full bins can be stacked 6 high on solid level surfaces with a maximum 2000 LBS of contents per bin.
Rack Storage
IsoBins can be stored on fully supported deck racking.
IsoBins cannot be stored on beam racked unsupported racking.

IsoBins are designed to maximize efficient use of space in ISO High Cube shipping containers.
For dynamic loading in High Cube trailers folded bins can be stacked 6 high while full and erected bins can be stacked 3 high.
IsoBins have four way entry fork straps and are designed for handling with forklifts and pallet jacks. Erected bins should not be transported more than four high. When transporting IsoBins on a forklift, the forks should be tilted back to prevent bins from sliding from forks, in the event of a sudden stop. When handling empty bins care should taken when cornering as bins may tip. If bins start to tip forks should be immediately lowered to stabilize the stack.
IsoBins can be cleaned using a high-pressure spray washer. High-pressure steam cleaners should never be used.
IsoBins consist of 27 component parts. All of these components can be easily repaired or replaced, should any of them be damage. Bins should be periodically inspected for damage employing the "IsoBin Inspection Process" detailed below. If an inspection yields damage that needs attention, repair processes are detailed below to deal with repairing or replacing parts. Bin components that are damaged beyond repair can be easily replaced. Always use appropriate care and Personnel Protection Equipment (PPE) when inspecting, handling or repairing bins. Gloves, steel toed boots, eye protection and hearing protection should be in use when working on bins to prevent short and long term injuries.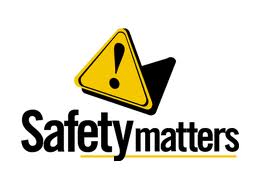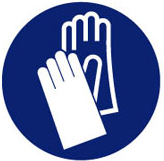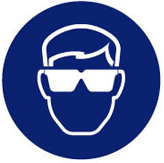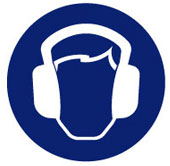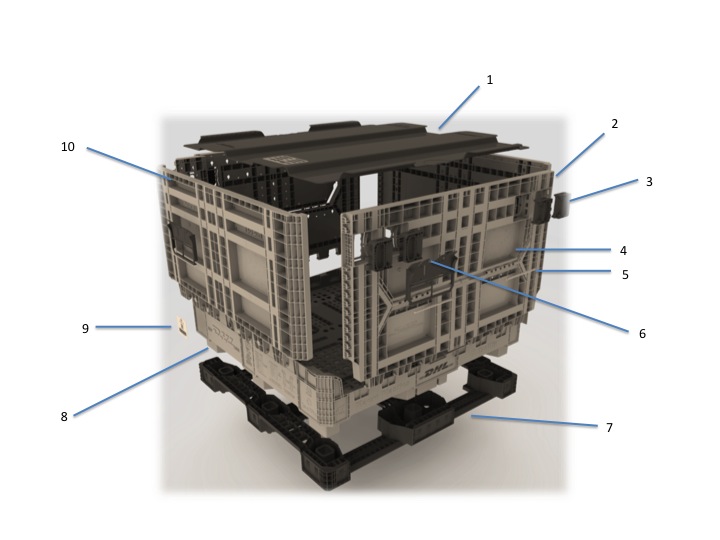 IsoBin Parts List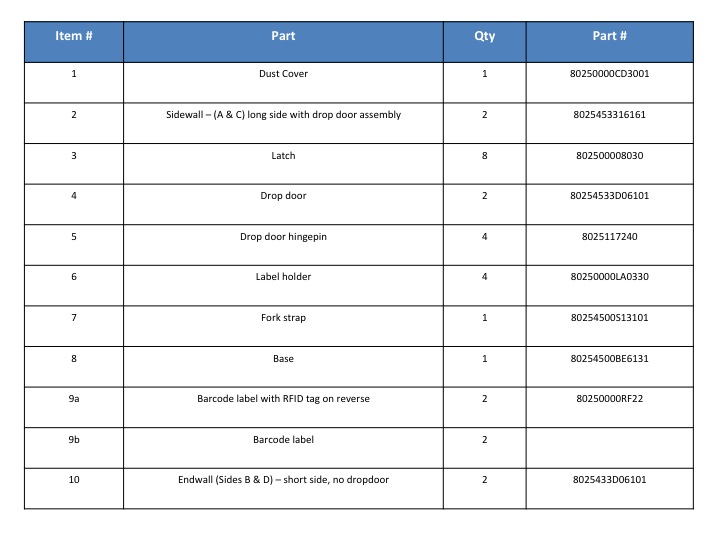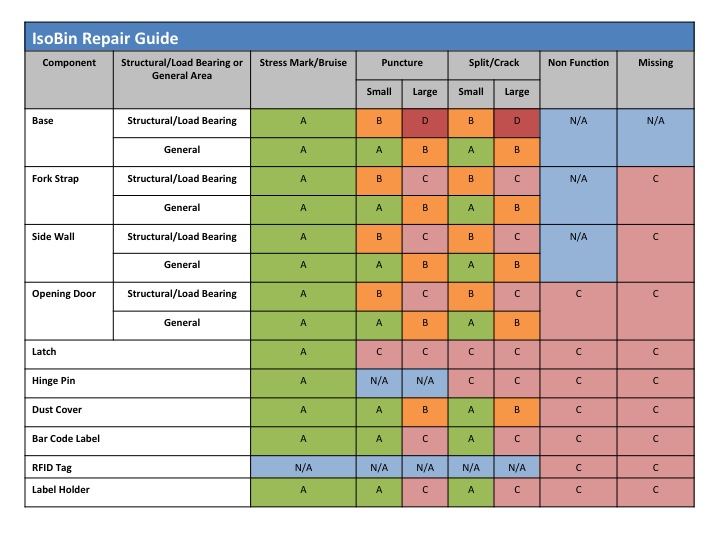 IsoBin Repair Guide Key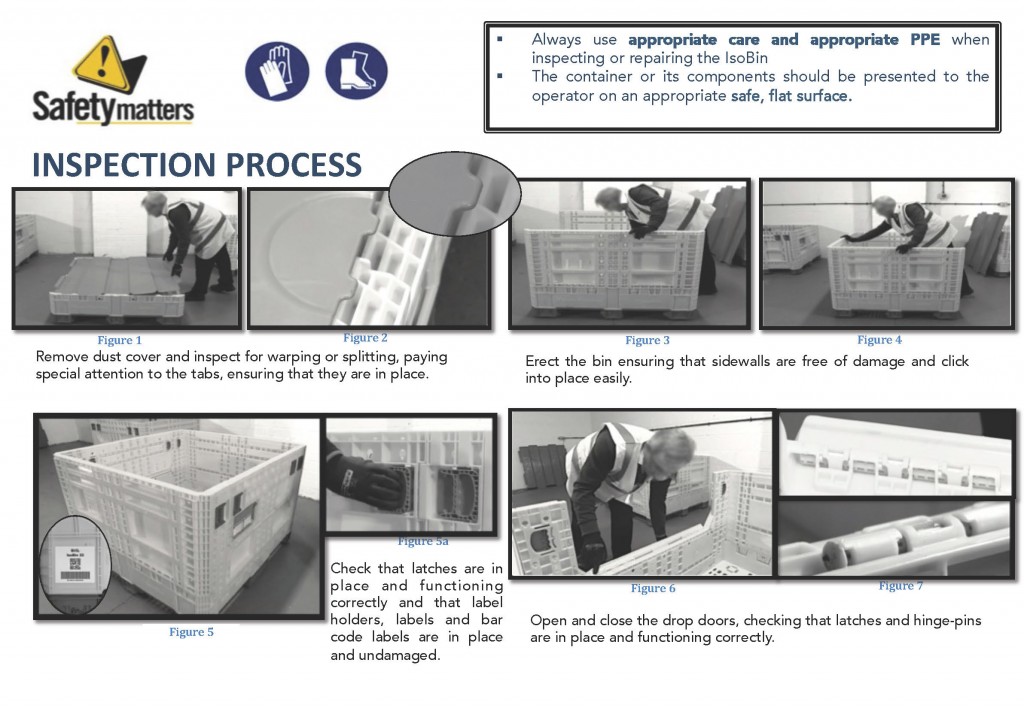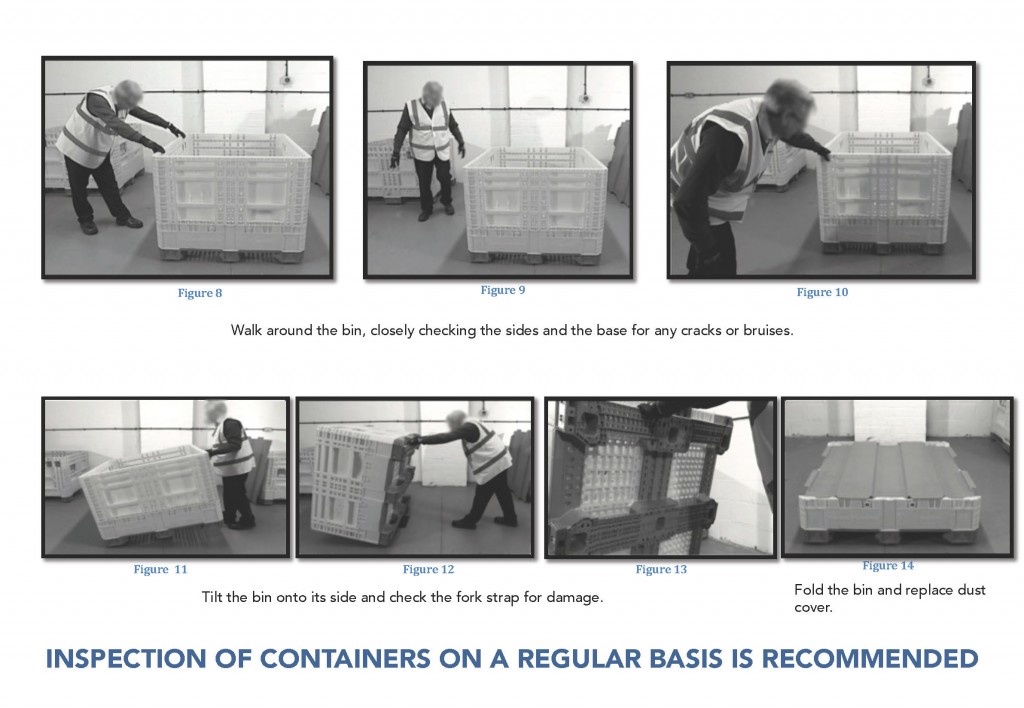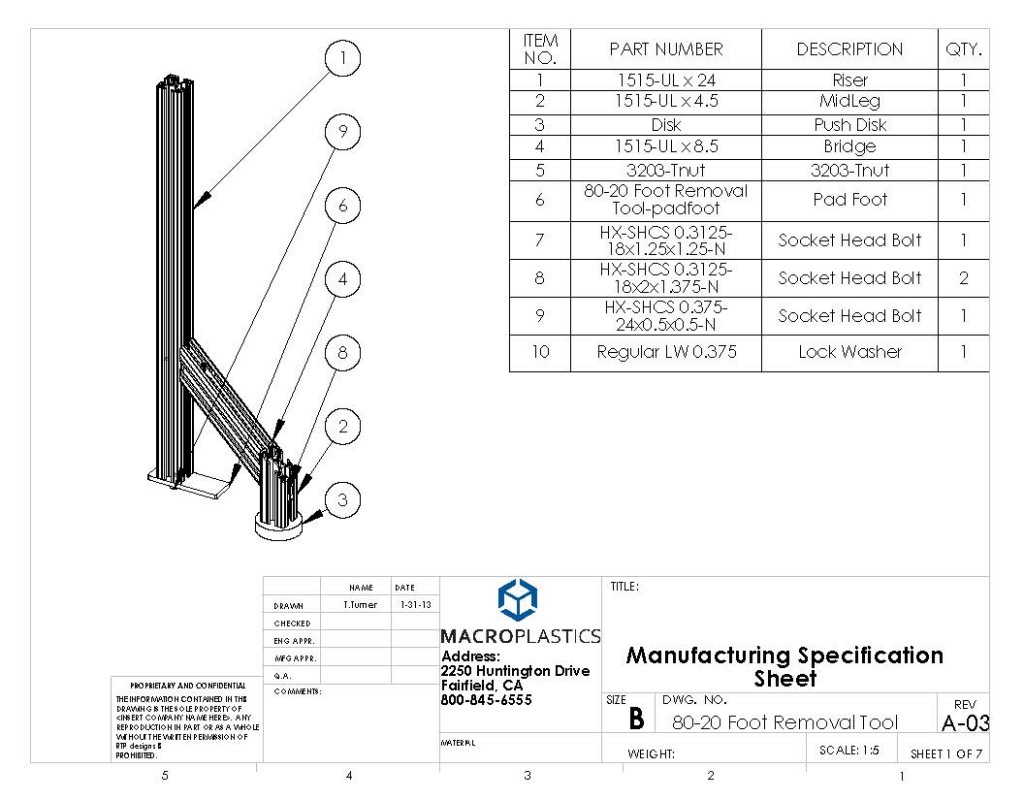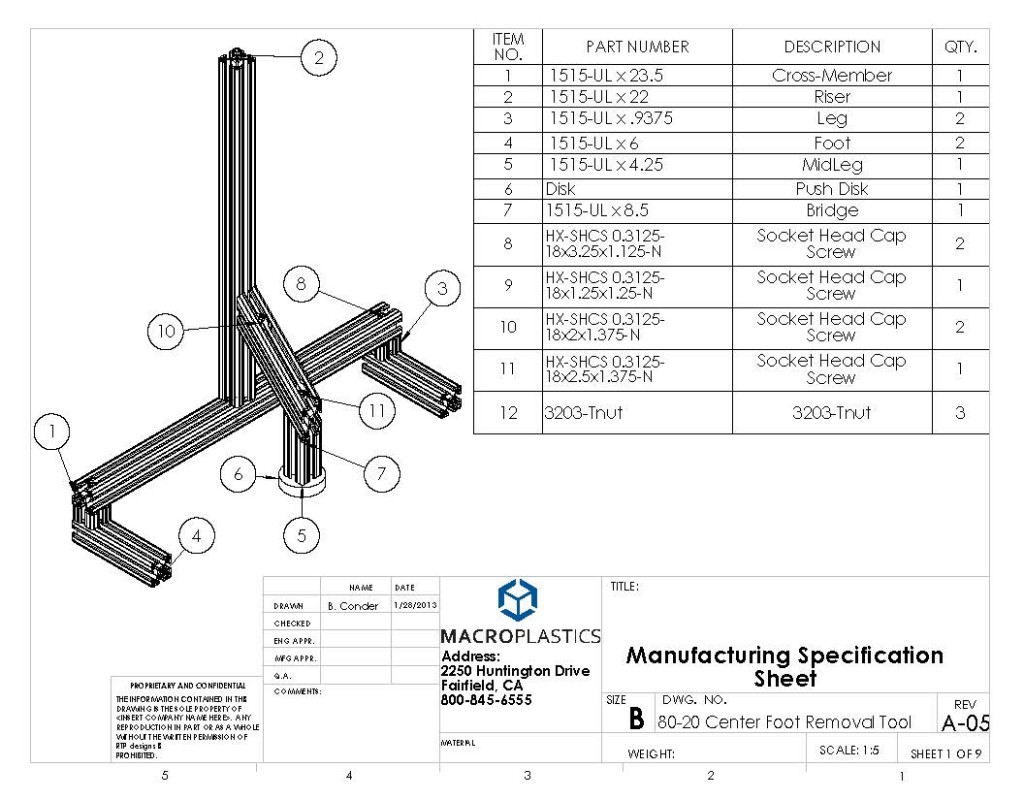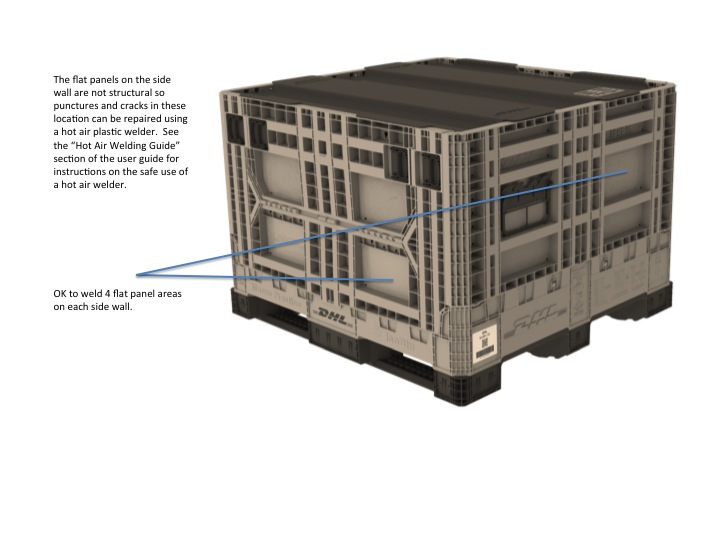 DO NOT ATTEMPT TO REPAIR DAMAGE TO THE CORNER OR CENTER COLUMNS OF THE ISOBIN CONTAINER. ISOBINS WITH DAMAGED CORNER OR CENTER COLUMNS MUST HAVE THE RELEVANT PART REPLACED IMMEDIATELY AS THESE CONTAINERS OR CONTAINERS WITH IMPROPERLY REPAIRED COLUMNS, CAN COLLAPSE AND CREATE A RISK OF SERIOUS INJURY TO PERSONNEL OR DAMAGE TO PROPERTY
If bins are damaged beyond repair, they can be recycled.  Visit www.macroplastics.com/services/recycling/ to get information on how to recycle your worn out bins.
Label holders are installed on all four sides. A label can be easily slid into the labelholder where it can be easily seen from all sides.