Rola-Trac is lightweight event flooring designed to support pedestrian foot traffic and static displays. It can be used for both indoor and outdoor events where a solid non-skid surface is required and the existing surface must be protected. Grass is protected from being trampled and dirt areas are covered. Rola-Trac is very fast and easy to install, as no tools or expertise are required and panels are supplied in pre-assembled panels. Rola-Trac can be used in all weather conditions as it is molded with high-impact polypropylene with UV inhibitors preventing damage from long UV exposure. This purpose of this guide is to review all aspects for the safe use of Rola-Trac event flooring.
Table of Contents
Transporting / Shipping
Preliminary Preparation
Assembly / Removal
Cleaning
Maintenance
Recycling
Rola-Trac is transported to job sites using 53' and 48" enclosed trailers or 48' flatbed trailers in the following volumes per trailer:
| | |
| --- | --- |
| 53' enclosed trailer | 36,960 sq ft |
| 48' enclosed trailer | 34,496 sq ft |
| 48' flatbed | 36,960 sq ft |
Rola Trac panels are shipped in 21 panel preassembled sections. Each pallet has 50 layers of preassembled sections, for a total of 1050 panels per pallet. To prepare for shipping, the full pallet should be securely strapped to prevent any movement of panels on the pallet.
A trailer is loaded 2 strapped pallets high with each row strapped and winched in compliance with DOT Federal Motor Carrier Safety Regulation 49 CFR 393.100 – 393.114.
Pallets transported in closed trailers must be secured to ensure the load will not shift in transport.
Preliminary Subsurface Preparation
Rola-Trac is designed for use on flat ground and has a static compression load capacity rating of 8,000 lbs/sq ft, when used on a solid, dry sub-surface. Load capacity will vary with lower sub-surface quality.
Before installation, the sight must be inspected and any large rocks or debris removed. Any large holes or indentations should be graded or filled in. Soil conditions may vary over the installation area, so care must be taken to evaluate the total area to be covered. It is the responsibility of the installer to ensure the surface is capable of supporting the loads required and does not have any large holes or irregularities that will affect the structural integrity of the Rola-Trac panels.
If the sub-surface is dirt, a geotextile should be used to keep Rola-Trac Panels clean and to prevent water from building up at low areas under the installation. The geotextile panel will also increase the compression strength of the subsurface if there is any question concerning the suitability of the soil to support the Rola-Trac installation.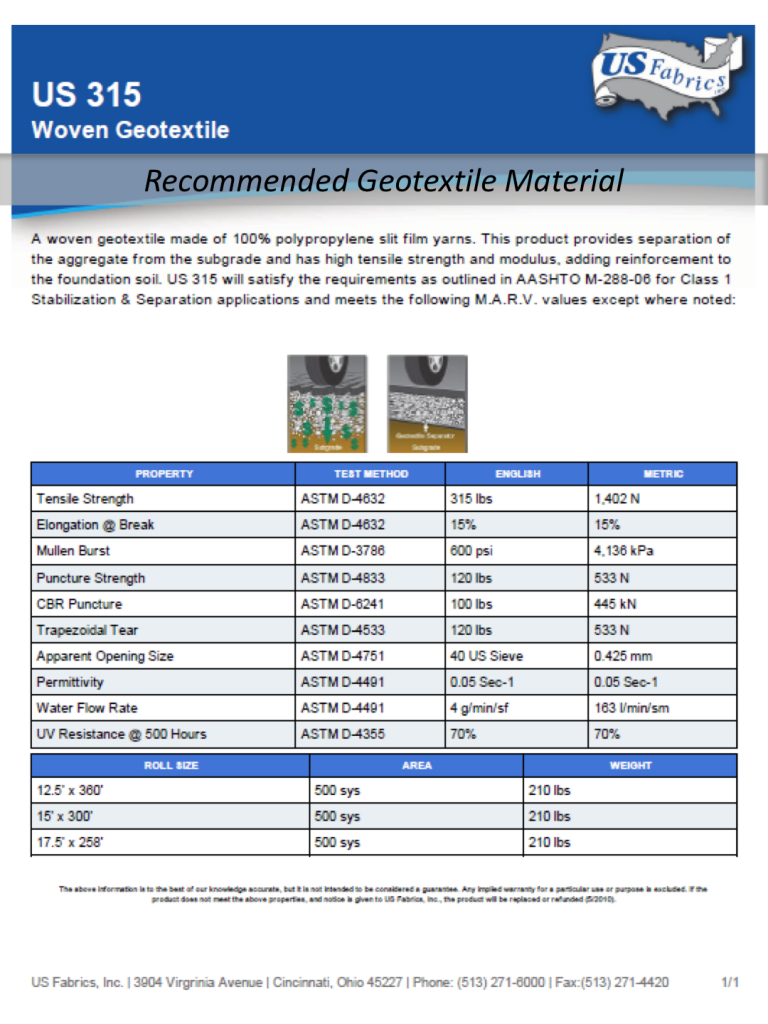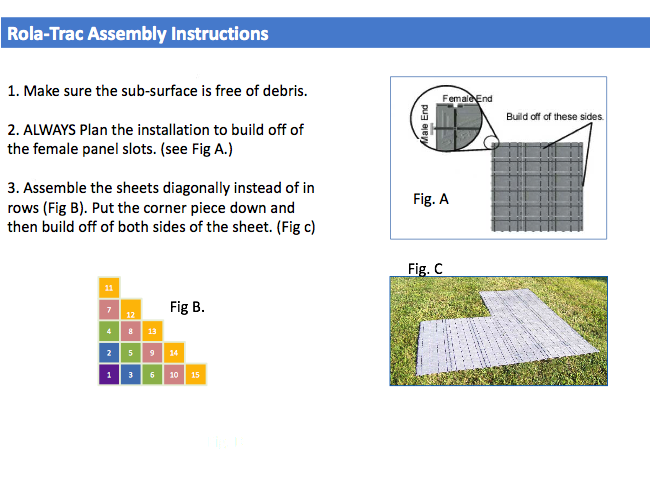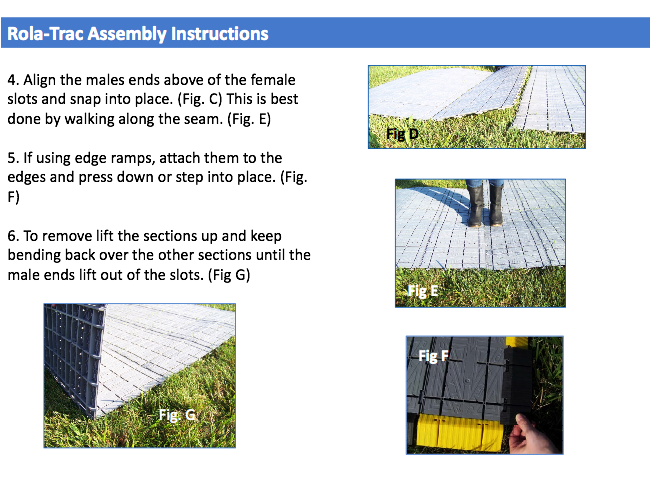 Rola-Trac can be cleaned using a high-pressure spray washer. High-pressure steam cleaners should never be used.
If a Rola-Trac panel is damaged, it must be recycled.
For information on recycling damaged or worn-out Rola-Trac panels, visit http://www.macroplastics.com/services/recycling/.